Angling
- Both Scotland and Ireland are renowned for fishing, with a combined 7,500 miles of coastline, lakes and lochs, and rivers and reservoirs from which to choose. Wild brown trout and salmon are the prize catches here, and many hotels offer packages with all inclusions for both the dedicated anglers and beginners. Permits, where required, are generally inexpensive.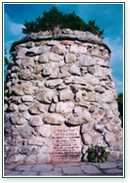 Archaeology - With sites dating back before the time of the Pyramids, this corner of the world is a haven for anyone interested in archaeology. Callanish Standing Stones, on the Isle of Lewis, is second only to Stonehenge in importance, and is also older. Seen from the air, this field of silent giants exposes the shape of a Celtic cross erected over 5,000 years ago. Neolithic settlements such as Skara Brae on Orkney are accessible to all who visit, and you can walk freely through "the village" of this ancient civilization.
In Ireland, Carrowmore Megalithic Cemetery in Sligo is the site of over 60 tombs that predate Newgrange by 700 years. Ceide Fields Visitors Center and Site, Mayo, is home to 3,700 acres of archaeological sites dating from 5,000 years ago. It's the most extensive Stone Age site in the world.
Cycling - The National Cycle Network is a signposted series of low-traffic or no-traffic routes in Scotland. A number of companies provide guided and self-guided tours in both countries, and the roadways and signage lend themselves to a pleasant, leisurely holiday. Suitable for all levels of cycling, from the slower-paced sightseeing trek to the challenges of mountain biking.
Equestrian Sports - Scotland has five racecourses and sponsors the Scottish Grand National, the Scottish Derby, and the Ayr Gold Cup Rages. Ireland has 25 racecourses -- truly the home of horseracing -- and offers annual events such as the Ulster Derby, Puncherstown National Hunt Festival, and the Irish Derby.
This is the perfect terrain for all levels of ridership, and both day-trekking and cross-country riding can be arranged for your vacation. Pony trekking has its roots in Scotland and there is a wide choice of riding centers available from which to choose.
Gardens - Owing to the warm temperatures of the Gulf Stream, Scotland and Ireland are famous for gardens. Formal gardens, often dating from medieval times and surrounded by walls, Woodland gardens in settings with large areas of woods (such as at Cawdor Castle), and Victorian gardens dating from the 19th Century, are spread throughout the Scotland. When the heather blooms in August the entire country comes alive with the beautiful purple hues of the native flower.
Altamont Gardens in Carlow is the most romantic garden in Ireland, located on a 100-acre estate. The John F. Kennedy Arboretum in Wexford is dedicated to the memory of the late U.S. president and covers 623 acres.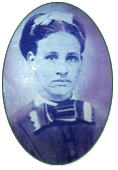 Genealogy - 12 million Americans claim Scottish ancestry, and 45 million claim Irish ancestry. Genealogy is one of the most popular hobbies today, and hands-on research is rewarding and exciting. The resources in Scotland and Ireland can shed new light on your search for clans and families. There are many websites that will help you prepare for your research and our staff, with good connections to genealogical offices, will help with arrangements for your researching schedule, as well as for accommodations and visits to areas of your ancestral heritage.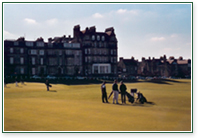 Golf - Combined, there are over 900 golf courses in Ireland and Scotland from which to choose. Ireland has 402, and Scotland, the home of golf, has 500. Whether your interest is to play the most famous courses or to take on the hidden gems, a complete golf vacation with options for non-golfers can be arranged for you. Some of the more popular, such as St. Andrews Old Course, require advance planning and require handicap certificates.
Hiking and Walking - Walking and hiking holidays offer good options for nature-loving visitors to Ireland and Scotland. A system of well-marked, established, long- and short-distance walking paths, as well as festivals and events (complete with evening entertainment), have made this a most popular area in which to enjoy the social aspects of walking. Whether you're looking for a group with which to share your experience or prefer to go about the countryside on your own, Scotland and Ireland are among the best of places for your adventure.
Fit walkers can take on the more mountainous terrain of Scotland's Munros (mountains over 3000 feet) and Irelands's more challenging, hilly terrain.
Literary and Film - Many books and films have been set in Ireland and Scotland, and both have given the world their share of prominent literary figures and outstanding performers. Ireland was the setting for such films as The Quiet Man (1952), Saving Private Ryan, My Left Foot, and The Commitments. Scotland can claim several scenes from three of the Harry Potter movies, as well as Braveheart, the entire filming of Rob Roy, Mrs. Brown, Highlander, and Hitchcock's classic The 39 Steps.
If your interest is literary, you may want to visit the home of Robert Burns, Scotland's National Bard, in Ayrshire, or take a tour of Abbotsford in Melrose, the home that was built and lived in by Sir Walter Scott, and visit his study. Abbotsford also contains a collection of historic relics such as Rob Roy's gun and Montrose's sword. A bit farther north in Kirriemuir, visit the house where J.M. Barrie, creator of Peter Pan, was born. Ireland is not to be overlooked, as it was home to such brilliant literary figures as Jonathan Swift, James Joyce, Oscar Wilde, Samuel Beckett, and George Bernard Shaw.
If you're a fan of the Outlander series by Diana Gabaldon, Celtic Journeys is offering an "Outlander Tour" to Scotland on a semi-annual basis: late April and mid-October. This 7-night tour visits several locations that were featured in the first two books of the series, Outlander and Dragonfly in Amber, where the relationship between Jamie Fraser and Claire Randall has its beginnings. This combination of fact and fantasy, book discussions, contests, and special presentations make this a unique experience.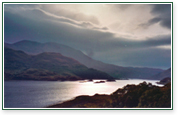 Photography - The beautiful landscapes and seascapes, the wealth of antiquities, the clarity of sunrises and sunsets, and the warmth of the people make these two countries a photographer's Paradise. Even an amateur shutterbug can return home with a collection of photos suitable for framing, if not for publishing!

Sailing and Cruising - Ireland has three main waterways for cruising, and cabin cruisers can be hired in size ranging from 2 to 10 berths. Scotland is one of the finest sailing areas in the world. You are never more than 45 miles from the sea in Scotland! The west coast is a bounty of islands and sea lochs, and the area around Argyll's coast is the heart of cruising. Canals also offer another option, and marinas are springing up in all areas of Scotland and Ireland.
Space limits the listings here, but if you have an idea you'd like to explore in conjuction with a vacation to Scotland or Ireland, please contact Celtic Journeys