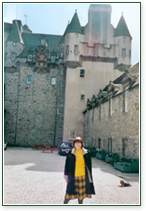 Celtic Journeys, LLC
443 E Glenview Drive
West Grove, PA 19390-2101
703 941 6455 phone
703 941 0860 fax
E-mail Judy at judy@celticjourneys.us

Celtic Journeys, LLC, is a privately-owned company dedicated to providing personalized service. With a career history in the travel industry and extensive knowledge of Scotland and Ireland, we strive to design the best vacations for our clients.
As owner of Celtic Journeys, I reinforce my knowledge and experience with semi-annual visits to both countries. Having completed comprehensive courses of study and earned the designation of destination specialist by the tourist boards, I focus on bringing quality and good value to you, the valued client.
Please direct your inquiries directly to me, as I look forward to working for you and with you.
Slainte,
Judy Lowstuter, Owner
ScotsMaster Destination Specialist